Final Meeting
Posted by

Categories

News

Date

July 20, 2022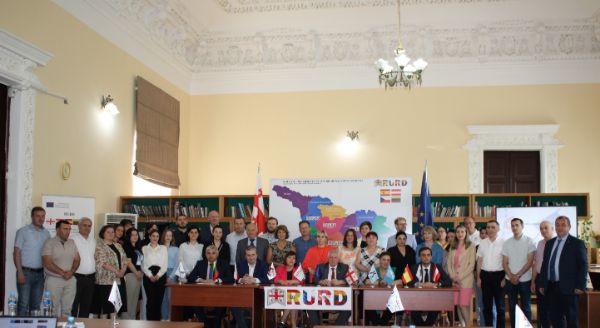 Akaki Tsereteli State University (ATSU), the Coordinator of the Erasmus+ CBHE Project "ROLE OF UNIVERSITIES IN THE REGIONAL DEVELOPMENT" (RURD), hosted final management meeting on July 18-20, 2022. The meeting was attended by the eleven participant regional universities, representatives from European partner universities from Spain, Austria,
Czech Republic and Lithuania, Ministry of Education and Science of Georgia, National Center for Educational Quality Enhancement, City Mayor and representatives of local authorities. The aim of the project is to improve the role of regional HEIs in the development of a region.
Based on the EU experience, regional universities reviewed and modernized their Mission and Strategic Development Plan, cooperation between universities and local authorities was enhanced to increase university capacity in accordance with specification of each region. In the frame of the RURD project Conference of the rectors of the regional universities was established as a committee that acts in an advisory capacity to the university management, local and state authorities, in particular with regard to issues relating to the university's development strategy in regional context and its implementation.